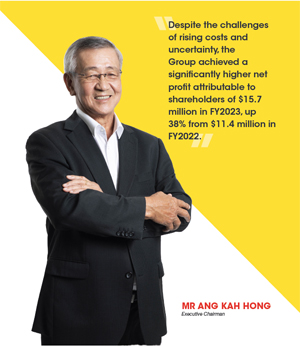 Extracted from Annual Report 2023
Dear Shareholders,
We achieved double-digit revenue and profit growth for the year despite a challenging business environment. Following the progressive resumption of economic activities, re-opening of borders as well as the gradual emergence from supply chain disruptions and project delays post-pandemic, the Group benefited from strong customer demand, and delivered robust performance for the financial year ended 30 June 2023 ("FY2023").
Notwithstanding the unpredictable business landscape amid ongoing geopolitical tensions in various parts of the world, the Russia-Ukraine conflict, slowdown in the Chinese economy, high interest rates and persistent inflationary pressures, as well as concerns over global economic growth, we maintain a positive outlook for the Group's business. The Group believes that there will be steady customer demand for its solutions and services, particularly in the Heavy Lift and Haulage business segment underpinned by demand in the petrochemical and construction sectors in Singapore, as well as in key regional markets such as India, Saudi Arabia and Thailand.
We will actively pursue opportunities that emerge from the requirements for infrastructure and petrochemical investments, leveraging our position as a prominent onestop integrated heavy lift specialist and service provider.
Performance Review
The Group's revenue for FY2023 improved by $13.2 million or 11% to $135.8 million with higher contributions from its Heavy Lift and Haulage segment.
Heavy Lift and Haulage segment remained our largest revenue contributor, accounting for 95% of the Group's revenue. Geographically, Singapore remained the top revenue driver, accounting for 78% or $95.7 million, followed by India which contributed 7% or $8.8 million.
Gross profit was higher at $49.3 million in FY2022, as compared to $42.4 million in FY2021. Gross profit margin also increased from 37.6% in FY2021 to 40.2% in FY2022 mainly due to better performance achieved by the Heavy Lift and Haulage segment.
Other income increased by $0.9 million to $3.5 million in FY2023, mainly due to higher interest income of $1.3 million and miscellaneous gains, partially offset by lower government grants. Other gain/(losses) – net reversed from a loss of $0.5 million in prior year, to a gain of $1.3 million in FY2023, as a higher gain on disposal of property, plant and equipment offsetted the higher currency exchange loss in FY2023 arising from the strong Singapore Dollar. Net impairment loss on financial assets decreased by $1.6 million from $2.2 million in prior year to $0.6 million in FY2023.
Amid persistent cost pressures, administrative expenses and other operating expenses increased by $0.3 million and $3.8 million, to $1.4 million and $32.8 million respectively. As interest rates rose sharply during the year, finance expenses correspondingly saw an increase of $1.2 million from $2.8 million in prior year to $4.0 million in FY2023.
Despite the challenges of rising costs and uncertainty, the Group achieved a significantly higher net profit attributable to shareholders of $15.7 million in FY2023, up 38% from $11.4 million in FY2022.
The Group's shareholder funds as at 30 June 2023 stood at $293.4 million, translating to net asset value per share of $1.27. Earnings per share for FY2023 was 6.77 Singapore cents, up 38% from 4.90 Singapore cents in FY2022. With strong cash flows generated from operating activities and stringent working capital management, the Group's cash and cash equivalents increased by $19.5 million or 35%, from $56.0 million as at 30 June 2022 to $75.5 million as at 30 June 2023.
Shaping A Sustainable & Resilient Future
As part of our ongoing sustainability efforts, we are proud to announce that one of our yards in Singapore turned "carbon-negative", i.e., it is expected to generate more energy than it consumes in the coming years. This was the result of the successful completion of installation of solar panels during the year. Going paperless via continued digitalisation to lower our carbon footprint is also part of the Group's ongoing transformational efforts to adopt environmental, social and governance best practices, and to do our part to combat climate change. As energy security and energy transition needs continue to grow, the Group will continue to participate in market opportunities in the renewable energy segment, including windfarm projects in the region.
Supported by our strong balance sheet and cash flows, we will continue to strategically calibrate and execute our fleet upgrading and renewal program, so as to capture new market opportunities and better meet our customers' heavy lifting requirements. At the same time, we will continue to accelerate technology adoption and proactively manage business risks to enhance our competitiveness and improve profitability in this rapidly evolving environment.
To keep up with our expansion within and outside Singapore, it is crucial that we develop and strengthen our workforce as well as foster a strong culture of inclusivity and diversity. We will continue to focus on training, talent retention and succession planning. With the aforementioned strategies in place, the Group will be better able to adapt and respond to challenges and opportunities and deliver value to our customers.
Dividend
The Board of Directors has proposed a final tax-exempt dividend of 0.40 Singapore cent per share, and a special dividend of 0.60 Singapore cent per share for FY2023. This represents a dividend payout of approximately 15%, doubling the total dividend payout from FY2022. The proposed dividend is subject to approval by shareholders at the Annual General Meeting on 27 October 2023.
Words Of Appreciation
On behalf of the Board of Directors, I would like to take this opportunity to express my heartfelt gratitude to shareholders, employees, management, customers, business associates and bankers for your steadfast support and confidence in the Group. Moving forward, we will continue to strengthen our position and create sustainable value for all stakeholders.
Thank you.
Yours Sincerely,
Mr Ang Kah Hong
Executive Chairman