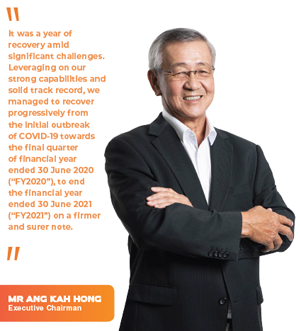 Extracted from Annual Report 2021
Dear Shareholders,
It was a year of recovery amid significant challenges. Leveraging on our strong capabilities and solid track record, we managed to recover progressively from the initial outbreak of COVID-19 towards the final quarter of financial year ended 30 June 2020 ("FY2020"), to end the financial year ended 30 June 2021 ("FY2021") on a firmer and surer note.
Since the initial Circuit Breaker ("CB") measures were implemented to slow the spread of COVID-19 in Singapore, the Group saw a gradual, albeit patchy recovery in demand for its services to the customers in the construction sector in Singapore. In addition, the Group continued to conduct its businesses in heavy lifting and haulage, marine transportation, plant maintenance work, project cargo transportation and storage services to the essential services sectors, especially the Oil and Gas, Marine and Logistics sectors in Singapore. In comparison, recovery in the Group's overseas operations was more subdued, as the epicentre of the COVID-19 pandemic shifted from Europe/USA toward South Asia during the year. Business conditions in our overseas operations remain difficult, amid ongoing movement control and national lockdown measures in response to resurgent and successive waves of COVID-19 infections.
Amid the challenging and uncertain operating environment, the Group recorded a full year revenue of $112.9 million, a 9% decline as compared to $124.7 million in FY2020. However, notwithstanding the lower revenue, the Group was able to post a net profit of $9.8 million for FY2021, 30% higher than the $7.5 million it posted in FY2020.
Performance Review
The Group saw revenue decline across all business segments in FY2021. The decrease was attributable to market conditions that continue to be difficult, amid the uneven, intermittent recovery in business activities hampered by the resurgent and successive waves of COVID-19 infections.
The Heavy Lift and Haulage segment remained our largest revenue contributor, accounting for 96% of the Group's revenue. Geographically, Singapore remained the top revenue driver, accounting for 78% or $88.4 million, followed by Indonesia which contributed 4% or $5.0 million.
Despite the 9% decline in group revenue, gross profit remained stable at $42.4 million in FY2021, as compared to $43.0 million in FY2020. Gross profit margin was in fact higher at 37.6% in FY2021, as compared to 34.5% in FY2020 mainly due to better performance achieved by the Heavy Lift and Haulage segment.
The Group recorded other income of $4.5 million in FY2021, an increase of $0.7 million or 17% from $3.8 million in FY2020. This was mainly due to higher government grant income such as Jobs Support Scheme, foreign worker levy rebates and rental relief recognised in FY2021. However, the Group reported other losses of $1.9 million in FY2021 as compared to a gain of $0.3 million in FY2020, mainly attributable to operational exchange loss in FY2021 of $2.6 million offset by gain on disposal of plant and equipment of $0.8 million, as compared to operational exchange gain of $0.2 million and gain on disposal of plant and equipment of $0.2 million in FY2020.
The Group made an impairment loss on receivables of $1.6 million in FY2021, a decrease of $2.1 million or 58% from $3.7 million in FY2020. The long outstanding trade receivable in Saudi Arabia was fully impaired in prior year in view of uncertainty of recovery. Other operating expenses were $25.8 million in FY2021, a decrease of $0.5 million or 2% from $26.3 million in FY2020, mainly due to lower depreciation, impairment loss on assets held-for-sale and travel costs.
Finance expenses were $3.0 million in FY2021, a decrease of $0.6 million or 17% from $3.6 million in FY2020, mainly due to lower interest rates on certain bank borrowings and lower borrowings during the year.
Consequently, the Group recorded a net profit attributable to shareholders of $9.9 million in FY2021, as compared to $7.6 million in FY2020.
The Group's shareholder funds as at 30 June 2021 was $270.9 million, translating to net asset value per share of $1.17. Earnings per share for FY2021 stood at 4.25 Singapore cents, up from 3.26 Singapore cents a year ago. With careful management of our working capital needs, the Group's cash and cash equivalents stood at $45.5 million as at 30 June 2021.
Building on Solid Foundation and Sustainable Future
The Group has consolidated its resources by concentrating on its core businesses and key markets, and has scaled back the operations in some of the non-performing overseas subsidiaries.
The Group has constantly upgraded its fleets' capacity to meet the customers' heavy lifting and job requirements, controlled its operating costs and managed the business risks to stay competitive.
It has embarked on various programs to build capabilities such as human talent retention and succession plans, productivity enhancement and optimisation of the fleet of equipment and to achieve more sustainable solutions for its businesses. Such programs will enable the Group to react promptly in response to the difficult and changing environment.
Board Renewal and continued Leadership
As part of the Board renewal process, we appointed Mr Ang Guan Hwa as our Chief Executive Officer on 1 September 2020 whilst Mr Ang Kah Hong remains as Executive Chairman. Subsequently, we appointed three new directors to the Board on 1 January 2021, namely Mr Poon Guokun, Nicholas as an Independent Director, and Mr Teo Yew Boon, Mr Ang Boon Chang as Executive Directors.
We are pleased to welcome Mr Nicholas Poon as an Independent Director. His experience in the legal field will diversify the capabilities and strengths of the Board, while the younger executive directors gain more experience.
Our two other independent directors, Mr Wong King Kheng and Mdm Luk Ka Lai (Mrs Carrie Cheong) have served the Board for more than nine years. Mdm Luk is due for re-election at the forthcoming Annual General Meeting. If she is re-elected, both Mr Wong and Mdm Luk will seek approval from shareholders for their continued appointment as Independent Directors until they are due for retirement at subsequent annual meetings through the two-tier voting in accordance with SGX listing rules. The Nominating Committee (saved for the director concerned) and the Board have determined that Mr Wong and Mdm Luk have continually demonstrated independence in conduct, character and judgement in Board discussions and deliberations. They have provided strong guidance on financial and corporate governance matters, addressing key risks and control issues relevant to the business of the Group. Given the challenges that lie ahead of us amid the COVID-19 pandemic, their continued appointment as Independent Directors will ensure stability and continued leadership of the Board as we ride through the difficult times. It will also ensure an orderly renewal of the Board which is in the best interests of the Company. Hence the Board would like to seek the support of all shareholders in this respect.
Dividend
The Group acknowledges the need to conserve cash during this coronavirus pandemic and difficult economic times. The Board of Directors is proposing to recommend a final tax-exempt dividend of 0.3 Singapore cent per share, as well as a special dividend of 0.1 Singapore cent per share for FY2021 to reward the shareholders for their continued trust and support. The proposed dividend is subject to approval by shareholders at the Annual General Meeting on 26 October 2021.
Words Of Appreciation
On behalf of the Board of Directors, we would like to thank our shareholders, employees, management, customers, business associates and banks for your unwavering support and confidence in the Group. We will continue to work hard and bring Tiong Woon to new heights in the coming years and we are determined to pull through and emerge stronger from this crisis.
Thank you.
Yours Sincerely,
Mr Ang Kah Hong
Executive Chairman